Des épaules solides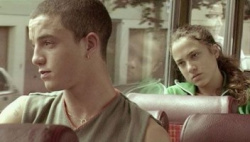 Year:
2003
Country:
Switzerland, France, Belgium
Actors and Actresses:
Louise Szpindel, Nina Meurisse
Tags:
bathing girl
Review:
Like a typical American teenager, Sabine is obsessed with her weight, her chest, her thighs, and chasing boys. Unlike an American, this Swiss girl is worried that her breasts are too big and her thighs are too small. And her interest in boys — well, she's mostly interested in outrunning them.
Sabine is a high school athlete first, a girl second, and if she has any interest in school or family, we barely see it. As headstrong as she is talented, the young sprinter bucks against the rules of the sport, her coach's methodical training regimen, and the culture's expectations of schoolgirls. She secretly trains to the point of exhaustion, against her coach's orders, and she insists she should race the faster boys, not the slower girls. When a new boy, Rudi, transfers to the school and instantly becomes its best runner, Sabine gets her first crush — but it's not clear whether it's the boy or just his running skills she wants to rub off on her. This pretty teenage girl is a hard case. She has the determination it takes to challenge the limits placed on her as a woman — or to self-destruct trying.
"Strong Shoulders" is not the classic sports movie about winning or losing the big game. It's one of those faux-docu dramas with that low-tech handheld-camera aesthetic that turns mainstream American audiences off — but it's a very good study of a girl on the edge. Sabine is a gifted young person trying to grow up too fast, glorying in her successes but eaten up by her impatience. Parts of the film move slowly but other parts shock us on an intimate level with their reversal of our expectations about how girls grow up. For some viewers, the movie itself will test their patience, but this small, narrowly focused story has a measure of surprising truth as well. - www.offoffoff.com
Movie added at:
31.07.2021